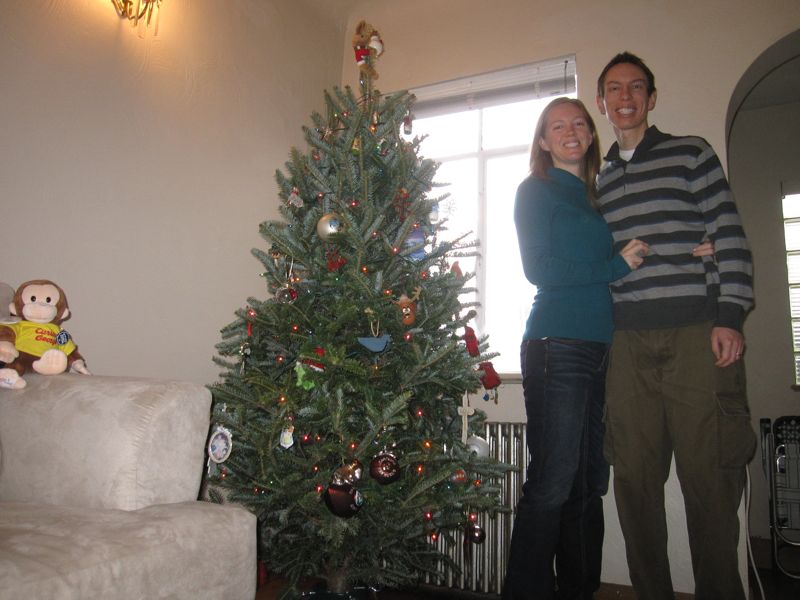 Dear Friends and Family,
Merry Christmas and Happy New Year! We are so thrilled to be celebrating the Holidays in America again! We've been enjoying our frasier fir Christmas tree, drinking plenty of eggnog, listening to festive music, and enjoying the lights and decorations of our neighbors. We're lucky to have been able to spend Thanksgiving with Alex's family in Missouri and will be with the Griffises in North Carolina for Christmas. There's nothing like a couple of years away to make us appreciate our wonderful families and crazy American Holiday traditions!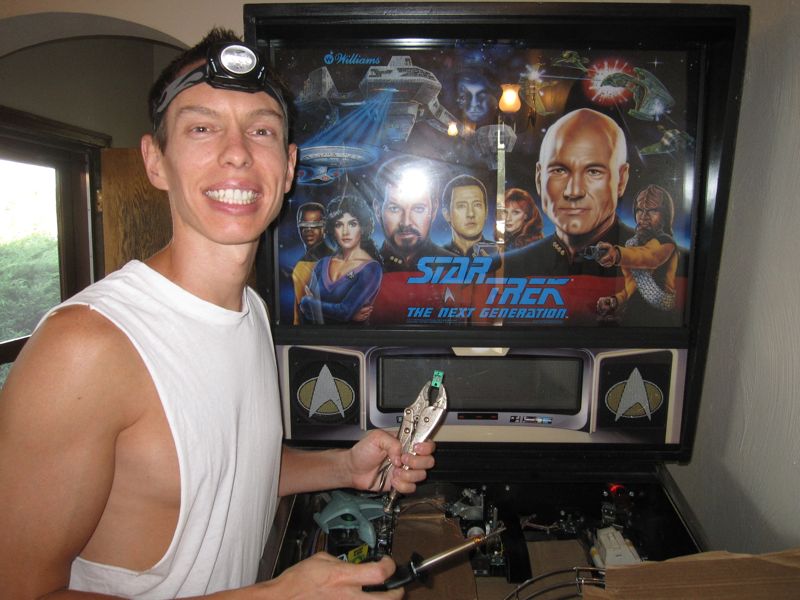 As you know, it's been a wild and crazy year for us, but we feel really happy to be settled down in Denver now. Alex is enjoying his new web development job at Beatport, where they bring in a DJ every Friday afternoon and have happy hour in the office. He's been biking to work just about every day and has only lost one pair of gloves in the process. Just in case the job ultimately doesn't work out, Alex has been dabbling in alternate career options, such as: pinball repairman, bike fixer-upper, professional foosballer, and speciality crocheted monkey-clothing designer. He finally joined an ice hockey league and gym and is trying to remain modest about his two years of soviet arm-wrestling training.
Emma did really well her first semester in the Master of Public Health program at the University of Colorado, Denver. She's bringing joy to Christmas parties everywhere with her enlightening tales of the theory of biostatistics. She's been biking to class and running most days. After the last two years, she has newfound appreciation for concrete sidewalks, storm drains, and people who shovel snow from their walkways. (Did we mention that we've had 4 big snowstorms in the last 2 months?!) Emma's also been trying her hand at a variety of new healthy-living projects, such as homemade granola, shampoo, and deodorant.
Although we're happy to be back in the States, we really miss our friends in Sofievka. If you weren't able to keep up with our blog (which we totally dropped mid-July—sorry!), we had a very busy last few months in Ukraine—finishing work at our schools, saying goodbye to all our friends, and frantically completing a playground project, which couldn't have been done without an amazing amount of support from you folks back home! Anyway, we've had a couple of Skype conversations with some Sofievka friends, but it's really hard to keep in touch. It's still very surreal sometimes to realize that we were living in Ukraine just 7 months ago. (Alternately: it's been 7 whole months?!) We continue to be very thankful that we had such a wonderful experience. It was hard and trying at times, but we've already gotten beyond that and now only think fondly about our time there!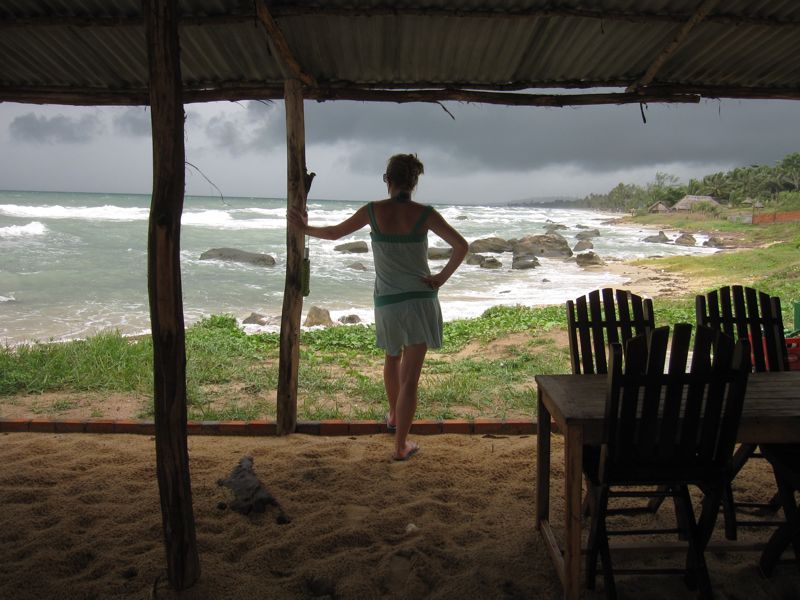 We tried our best to have a smooth transition from Ukraine back to the US, but everything from June through August is pretty foggy! We left Ukraine (flying directly over our training site and Sofievka on the way) headed for DC, with a six-week layover in Thailand, Laos, Cambodia, and Vietnam, in order to see another awesome part of the world. The food was amazing, the beaches were beautiful, and the people were super friendly. We even got SCUBA certified! However, the bus rides were long and uncomfortable, we were living out of our backpacks, and we were pretty ready to be back in the US after 2+ years away.
Once back in the States, we got to spend about a month visiting our families and hanging out with friends before we felt the pressure to get to Denver and settle down before Emma's classes started. But, we had a seriously wonderful time visiting with our loved ones, relaxing, and enjoying American life. Many thanks to our families and the Caudles for hosting us along the way!
So, here we are, in Colorado and enjoying just about every minute of it. We're in a lovely rental home with a guest bedroom, so we're expecting lots of visitors in 2012. (That means YOU!) Shout outs to sisters Cara and Anna for being our first guests!
Best wishes to you and your loved ones this Holiday season. Here's to a new year full of peace, love, and happiness!
Love,
Emma & Alex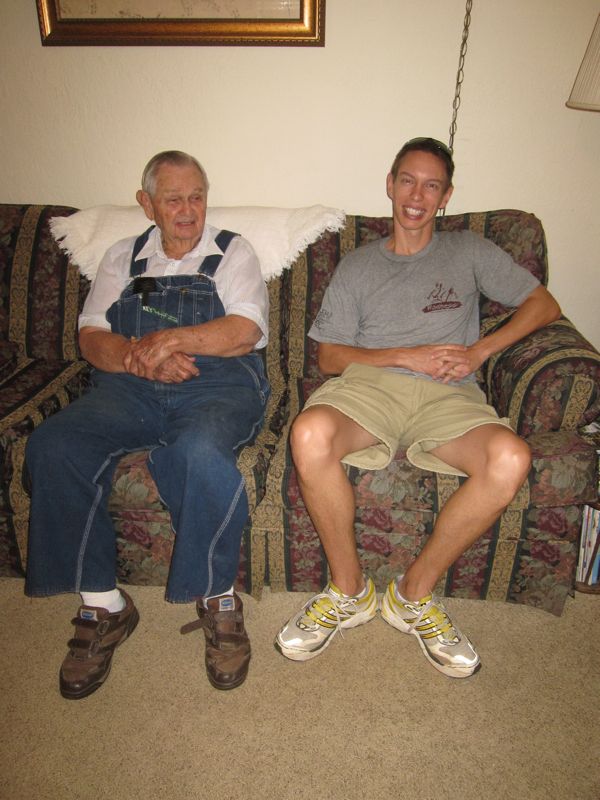 Update: We found out on December 31st that Alex's grandfather, Rudy Kunza, died. He was a real character who made friends with just about everyone he met. He turned 90 this year, and he just kept on farming – he was remarkably active and healthy till the end. He survived WW2 and many close calls with farm equipment, but apparently a ruptured abdominal aortic aneurism finally took his life. Although we are sad that Rudy's gone and will miss him greatly, we're thankful for the times spent on the family farm and around the kitchen table: playing cards, listening to funny stories, eating toast straight out of Rudy's toaster, and hearing his good ol' Missouri drawl.
2011: Our whirlwind year in exactly 100 pictures