May 25th UPDATE: The Playgrounds are Finished!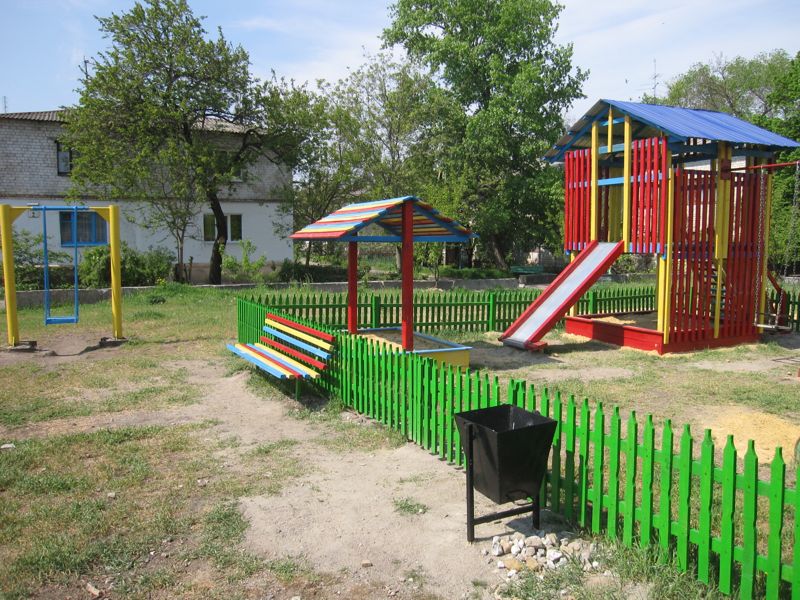 We are very proud to announce that our three neighborhood playground-parks are finally completed and officially open! After several frustrating delays due to weather and the "human factor", followed by long hours slopping colorful paint onto wood alongside neighborhood volunteers; we held three opening ceremonies, cut three ribbons and watched the kids have fun.
We want to show you all three playgrounds, so we're going to put up one post for each of them in the order that we opened them. Here they are: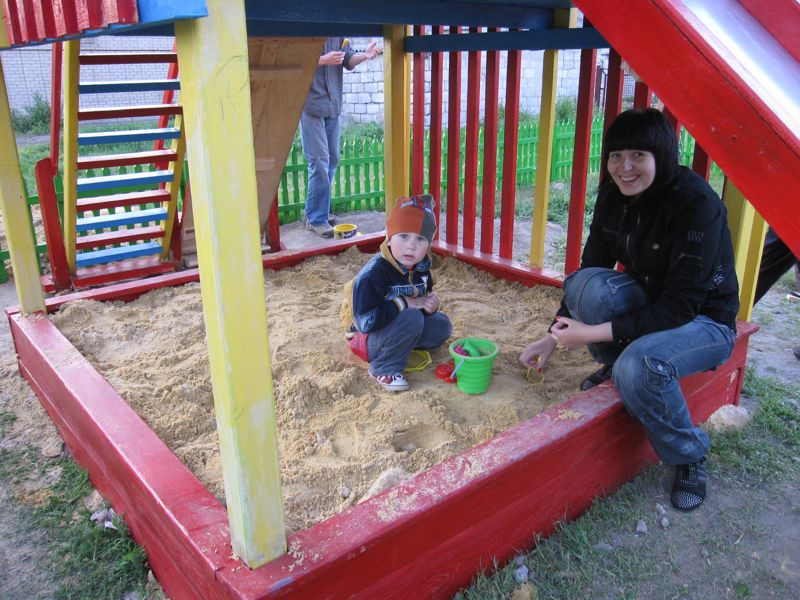 We would like to pass on to you all the gratitude the people of Sofievka have expressed to us. We can't thank you enough for your contributions to our humble little project.
As much fun as it's been, we're relieved to be finally finished – especially since our Peace Corps service ends in only a week!
April 3rd UPDATE: We're treating the wood to prepare the playgrounds for installation. Read about it here.
March 2nd UPDATE: Building is well underway! Take a look at this blog post for details.
January 4th UPDATE: The "Our Sofievka!" project has been fully funded! We have been overwhelmed by the support we've received from our families, friends, and even complete strangers who have contributed to this project.  Thank you so, so much for your help!!  We should have access to the funds within a month, at which point some preliminary work can begin.  The bulk of the project—installing equipment—won't happen until the spring, but we expect everything to be ready to go as soon as the ground thaws!
Now, read on to learn all about our exciting project "Our Sofievka: Parks, Playgrounds, and Peace"!
We have been incredibly fortunate to live in such a friendly Ukrainian town for the last year and a half.  The people of Sofievka embraced us, took us in as their own, and did everything possible to make sure we were always comfortable and safe.  In our last few months here, we would like to do something to give back and show them how thankful we are.  We can't do it on our own, however, so we're asking for your help.
Although most residents agree that Sofievka is a wonderful little town in which to live, all believe that there are too few places for people—from small children to elderly retirees—to relax and enjoy time outdoors.  The town is just too poor to spend much money on recreational spaces.  Our goal is to revitalize small parks near three apartment complexes.  Each park will include playground equipment, benches, and trash cans.  Over 2,000 Sofievka residents will benefit from this project—families in more than 900 apartments—and we believe that it will make our town a more pleasant, more enjoyable, and safer place for all to live. We've named the project "Our Sofievka: Parks, Playgrounds, and Peace" since we hope it will make everyone feel more proud of and more engaged in our little town.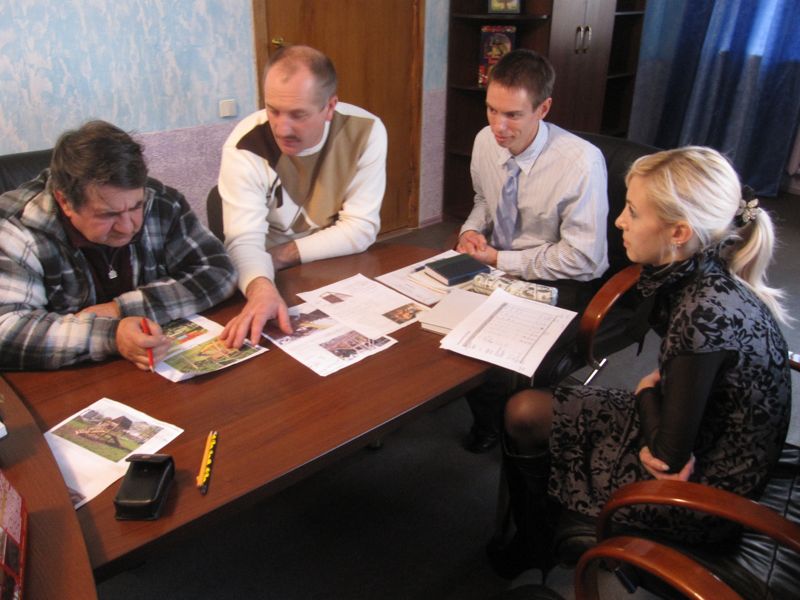 For the project, we raised just under $3,700 from our family members, friends, and supporters.  Our goal was to raise all the money by the end of January (done!), then finish the project by the end of April, so that the playgrounds and park areas will be ready for Ukraine's beautiful spring and summer weather.
We can offer multiple options for levels of giving, and we'll send each of you a thank you card featuring authentic Sofievka kids posing on (or throwing trash into) your donated equipment.
"Playground Structure" level — $450

"Sandbox" level — $200

"Teeter-Totter" level — $125

"Park Bench" level — $75
Every gift is appreciated, so don't worry if you're on a tight budget.  There is a giving level for everyone!
"Trash Can" level — $15

"Can of Paint" level — $10

"Metric Ton of Sand" level — only $4  (What a deal!!)
Additionally, donations can be made in memory or honor of a loved one.  We will send that person a nice email (a letter will be too slow) with some pictures to let her/him know about your donation, and we'll send a card when the project is finished.  Please note that we won't receive a list of donors until March, so send an email if you want us to know about your donation sooner, or if you want to honor someone with your gift.  Peace Corps can even process matching gifts from companies if you're so inclined (details here).  THANK YOU!!!
For a taste of Sofievka, check out a few of our old blog posts, and flip through our photo albums.
To read more detailed information about the project, click on one of the sections below.  Feel free to contact us for more information, such as the project budget.
Executive Summary
Background Information
Community Need
Community Initiation and Direction
Community Contribution
Project Implementation
Project Sustainability